There are multiple jobs associated with the oil industry, some being low level and some executive level. Of course, actual drilling falls on expertise of mid-level workers, all performing challenging but also rewarding duties. While some people think to be hired to work within this industry a tremendous amount of experience is needed the truth is that for many entry level oil field jobs, criteria is not nearly as strict as imagined.
Main Entry Level Job Options
We wanted to offer brief information about some of the types of entry level jobs the oil industry offers. In addition to there being many unique options, unlike most other entry level positions that pay minimum wage or slightly higher, oil field jobs offer competitive salaries. Although there are some entry level oil field jobs that do require a person to have some specialized education and/or training, many require no experience at all.
However, the person who has some experience, even minimal, would prove beneficial in being hired but having no prior work history in the oil industry should certainly not dissuade someone from searching possibilities. The following are just a few examples of entry level oil field jobs although many others exist.
Cook – Several levels of cooks exist within the oil industry and while exact jobs vary, the primary goal of each is to prep and prepare food for the crews working in the oil field
Driver and Driver Assistant – As a driver, supplies and equipment would be transported to and from camps for various oil field workers. As a driver's assistant, which is also referred to as a Swamper, trucks would be loaded and unloaded and when needed, driving would be done to give the actual driver a break.
Field Assistant – For this job, geologists and geo-technicians would be provided with assistance for keeping record of pertinent date while having the chance to learn how to operate various types of geophysical equipment
Geophone – Also known as a Jughound, this individual lays down geophones and cables. The job is physically demanding so it is not for everyone but anyone willing to dig, lift over 55 pounds, and put in a lot of overtime, earning around $45,000 a year and up would be worthwhile especially since food and board are provided.
Janitor – While this particular entry level oil field job may not be glamorous, it is one more door of opportunity within the oil industry. In this case, the camp where workers stay would be kept tidy and organized
Maintenance Roustabout – This person is responsible for keeping the deck area of a rig clean and in good repair, as well as paint areas as needed. The average salary is around $47,000 a year.
Materials Person – The main responsibility of the person in this position would be to keep stores stocked, order supplies when needed, receive orders, and maintain account of items in inventory. Although this entry level worker is on call to work odd hours, the pay of $59,000 a year is worth any inconvenience.
Painter – In this role, rig painting would be the primary responsibility. While it might seem as if there would not be enough work, considering the size of rigs, a painter in the oil industry is never without work. Average annual salary for this entry level position is $57,500.
Roughneck – Primarily, this individual would guide a crane to move loads, provide needed equipment to the rig floor, and keep both the main deck and pipe deck clean. Sometimes, the roustabout would provide assistance to the roughneck on the drilling floor, among other things. As far as earning potential, $54,000 a year would be expected.
Scaffolders – Rather than work on a single rig, these entry level workers move to different rigs as needed, earning around $57,000 a year.
Slasher – This person would be responsible for clearing trees and debris along seismic lines. Because chainsaws are used throughout the day the interested person should possess physical strength and for pay, most slashers are paid by the hour with the amount being highly competitive.
Welder – For this, rig welders work on one rig, making repairs and creating things as needed but other welders are hired to go around to different rigs, used specifically to get jobs done professionally and quickly. On average, welders of both types would expect to earn $62,000 annually.
Helpers
In addition to standalone entry level oil field jobs, there are also entry level positions whereby help is provided to a lead employee. The following are some of the helper roles that could also be considered.
Electrician's Helper – In this case, wires would be run, electrical equipment inspected and tested, and certain issues resolved
Mechanic's Helper – Standard responsibilities include cleaning any motorized equipment, making sure moving parts are properly lubricated, and mechanical problems taken care of along with the lead mechanic
Seismic Driller's Helper – Providing support to the Seismic driller, shot holes would be dug for dynamite that would be dropped as part of the drilling process
Survey Helper – Working under the surveyor, this person would hold rods and stakes for surveying purposes, as well as help carry equipment needed for the job
Remember, many entry level oil field jobs involve training while working. Obviously, for the person without specialized training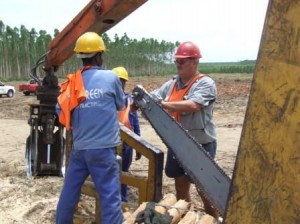 and/or education, this provides the opportunity to learn according to the way a company wants work done but also get a start in the oil industry knowing there is lots of room to grow.
The goal with any entry level position would be to perform the job to the best of the person's ability but to also acquire various forms of training, education, and even certifications while employed. While a person could stay in the original position hired for, it is exciting to know that more advanced positions could be achieved with hard work, determination, and a genuine willingness to learn.