Specific to oil field construction jobs, a number of different possibilities exist. Each job involves specific duties, has unique requirements for employment, and offers a specific pay level. The nice thing about jobs of this type is that they are so varied. As a result, someone could work in the oil field with very little experience or secure a top position and the lucrative income that goes with it.
Because the types of oil field construction jobs are so varied, we felt it would be helpful to provide details on some of those. With this information, an individual would have the chance to see the opportunities that exist for this industry, making it easier to know if working in construction related jobs connected to oil fields would be a good career match.
Construction Planner and Scheduler
The first of the oil field construction jobs we wanted to mention is the planner and scheduler. In this role, the individual would have the responsibility of planning but also scheduling all work on site in support of the various operations for drilling. In addition, the person would order, receive, store, take inventory, distribute, and ship any needed tools, supplies, parts, and equipment to different locations of operation. Additionally, maintaining accurate records and building an MMR catalog are typically required.
To be hired as a construction planner and scheduler, an individual would need SAP, Word, and Excel computer experience, previous experience in construction, specifically within the oil field industry, knowledge of service providers, vendors, and various equipment suppliers, and possess excellent oral and written communication skills. Average pay for this position ranges between $15 and $20 an hour.
Construction Specialist
Also referred to as a Construction Manager, this person has the responsibility of supervising contractors but also supporting VPC construction activities. Other job duties include planning, scheduling, and coordinating various construction activities while ensuring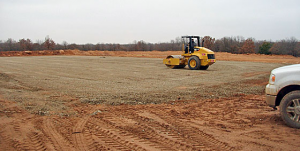 HES performance standards are being met, being involved with project development and execution for various departments, and having a hand in all processes for appraising projects.
The best candidate for an oil field construction job such as this would be a great leader, have excellent communication, work independently, be able to multitask, make quick but accurate assessments, meet tight deadlines and budgets, and establish clear directions and instructions.
A minimum of 15 years of experience in construction, repair of oil field pipelines and facilities, and modification would be mandated and proficiency in using survey drawings, construction drawings, and installation specifications would be required along with other things. For pay, a construction specialist typically earns between $58,000 and $75,000 a year.
Yard Hand
Yet another one of the many oil field construction jobs is the yard hand, which would be responsible for all maintenance and upkeep of the yard, keeping inventory in order, disposing of waste appropriately, operating a number of different hand tools according to task, using lawn equipment and power washers, operating a forklift, and performing basic maintenance jobs. Although an entry level position, the work of a yard hand is critical to a seamless oil field operation.
To work as a yard hand, an individual would need between three and five years of experience in the drilling industry, know how to operate basic equipment and tools, have knowledge of rig equipment, possess basic mechanic experience, perform different maintenance work, communicate well, and be available for on-call work. When working full-time, a skilled yard hand would make $15 to $25 an hour.
Additional Jobs
Along with the oil field construction jobs listed above, some of the other types of jobs commonly in high demand include the following:
Equipment Operator – In this role, an equipment operator would help with setup and take down of rigs, perform repair and maintenance on drilling equipment, operate equipment during periods of drilling, help load and unload equipment, and other duties. Although starting pay is typically around $15 an hour, the job is a great place to learn the oil field industry.
Estimating Manager – This person would provide a number of important services specific to different industries to include oil. Primary duties include estimating civil and mechanical work using various computer programs. The job requires excellent project scheduling and construction management skills, as well as education. Throughout the country, an estimating manager would earn around $90,000 a year.
Fabricator Mechanic – This entry level position would handle repairs and maintenance for equipment used in the oil field. Usually, two to five years of experience in mechanics would be required although some experience in welding would be preferred as well. Pay for this job ranges from $12 to $15 an hour on average.
Field Sales Lead – The main responsibility of someone working as a field sales lead would be creating strategies and securing new clients, creating and maintaining business relationships, developing sales proposals, generating follow up leads, and negotiating and closing sales leads. While starting salary is around $30,000 a year, someone in this position often makes incentives as well.
Here are some articles about some job profiles in the oil industry: